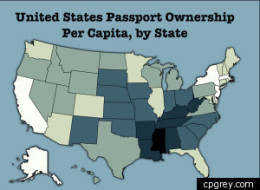 I can only speak for the South, but I don't think it's necessaril
­y "never want to"--at least not for the newer generation
­s. Older generation
­s--sure. They're quite content to sit still and travel only within the U.S. But the newer generation
­s (myself included) most definitely want to get out and explore, but it's the economic issue. The South still has way too many poor states which inhibits the ability to travel outside the states.
I'm thankful that despite the ability to travel abroad right now, I pay attention to the world and am desperatel
­y trying to see it. My parents took me all over this country, which gave me the travelling bug, so I'm always itching to explore. I wish more people were too!
Read the Article at HuffingtonPost